Exterior Glass Balustrade Systems
Glass Balustrades are a wonderful addition to any home. Glass Balustrades are suitable in many situations such as Garden Patio Windbreak, Balcony, Stairs, Decking or Terrace.
"I was concerned that being right beside the sea we would spend most of our time cleaning the Glass- but it is literally zero management. The best part, of course, is that the outdoor area works so well for us now. Without the breeze there is a real sense of comfort and privacy – my only regret is that I didn't do it sooner"
-Jane & Myles Lamberth, Shells Cafe, Strandhill
"We contacted Ian in Sligo Glass to discuss options for a glass balustrade around our patio which is in an exposed area. Ian explained the options in detail, provided a clear quote quickly, and talked to us and our builder so that we could prepare the walls to the correct specification to support the balustrade. We delayed for a few months then contacted Ian again, there was no drama, and Ian helped us change the design, provided a new quote then we decided to press ahead. Ian was super helpful and easy to work with, professional in providing quotes which some suppliers are not great at, and then provided good communication throughout the process. Their team arrived on time to install the glass balustrade and did an excellent job, install was to a very high standard, very professional and it is a very impressive finish. We have received lots of compliments so far. Overall Sligo Glass and Ian, in particular, were excellent to work with, 10/10 for everything and I could not recommend them highly enough."
– Steve Breen, Renvyle
Our Installation teams Install Glass Balustrades in the following counties:
Leinster: Longford, Meath, West Meath
Ulster: Cavan, Donegal, Fermanagh
Connaught: Sligo, Leitrim, Roscommon, Mayo, Galway
Munster: Clare
If Installation is not required we can supply the Glass & Hardware to the above counties including Dublin and Kildare.
We have Two Fantastic Balustrade Solutions
1. Ezi Rail SG – Balustrade Post System

Fittings: Stainless Steel Posts
Glass type: 10mm thick Toughened Glass with polished edges.
Price: From €280 /linear meter Ex VAT*
*The minimum prices include supply only
Options on request:
– Handrail
– Supply Only
2. Crystal View – Seamless Glass Balustrade
Fittings: Crystal View Channel kit (surface or side-mounted) Aluminium Anodized with stainless steel effect finish.
Glass type: 15mm thick Toughened Glass with polished edges
Price: From €450/linear meter Ex VAT*
*The minimum prices include supply only
Options on request:
– Handrail
– Laminated Toughened Glass (recommended for commercial)
– Supply Only
We use Toughened Laminated glass which is Robust & safe to use either as a Balustrade or a Windshield. Please let us know if there is a fall of more than 1200mm (4ft) on the far side of the proposed railing. In this case, a handrail or Toughened-Laminated Glass Must be used. Glass Balustrades are Suitable for Domestic & Commercial purposes.
Glass Balustrades make a Great CAPTIAL Investment!!!
Glass Balustrades add value to your Home & turn your Garden into an extra room you never knew you had!
Please Note: This page is Purely for Outdoor Glass Balustrades. For Indoor Balustrades see our Glass Stairs Page.
Crystal View Frameless Glass Balustrades – As seen on Grand Designs!
For a Seamless View, we recommend the award-winning Crystal View system.
No Posts to spoil the view – Just Seamless Glass!
Our Crystal View System makes glass installation & removal effortless. This means that, unlike wet glazing systems, the glass is easy to remove if it ever breaks or gets damaged.
All our glazing systems are fully certified for a height of 1100mm and meet all building regulations.
Glass Magazine:
"Most Innovative Commercial Hardware Product"
Glass Windbreaks – Ezi Rail Glass & Post Solution
In Ireland, it's often just too breezy to sit out in the Garden but now you can Shelter yourself from the elements
without obstructing the View!
Glass Balustrades bringing the outside in!
We Supply the Ezi-Rail which is a Pre-Fabricated Post System made from 316
Grade Stainless Steel. The handrail is optional.
Ezi-Rail is a perfect project for DIY enthusiasts. If you are a Tradesman or Self-builder we can supply all the parts you need to build a contemporary glass balustrade. We also offer phone support where we can walk you through the necessary steps.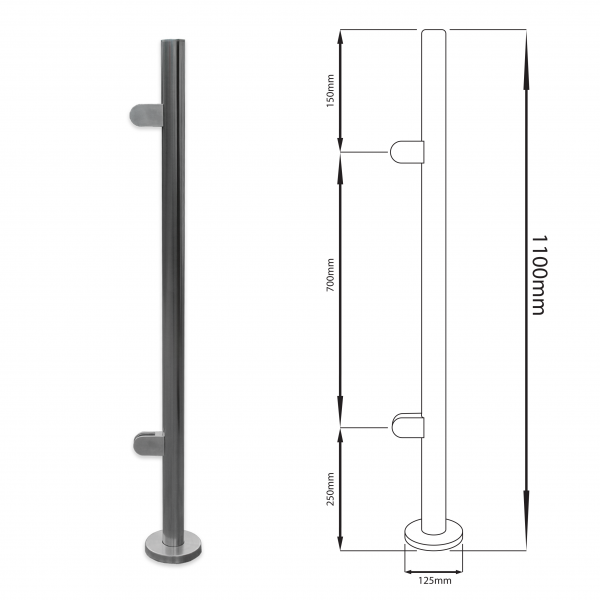 Sligo Glass, provide you with everything you need to fit your balustrade.
Even the tapping kit to fit the handrail!









We had Sligo Glass install a new glass balustrade on our Viewing terrace at our new store Moher Cottage in Liscannor Co.Clare and we couldn't have been more pleased with the work and result they provided. Ian and the team from the outset were very professional and experienced explaining all options thoroughly. On installation, they were focused and methodical double-checking everything. We are delighted with the finished product which has provided the wow effect to our viewing terrace but also as we are on the Wild Atlantic Way it has had no issue in the face of our recent hurricane and storms. We would definitely recommend Sligo Glass again!
-Kevin & Caitriona Considine, Moher Cottage, Co Clare
For more info on all our products please email or
to talk to one of our friendly staff,
call us on +353 71 9161924
If you would like a Free Quote please use the Request a Quote using the form on this page or if you would like to more detailed information you can Request a Balustrade Brochure
You can also leave a Voicemail anytime with your requirements & let us know a good time to call you back.
We can also provide Balustrade Systems, which are suitable for Stairs & Landings, Juliet Balconies, Terraces, Apartment Blocks, Patios & Decking areas.
Building a new home?
This is perfect for you, and so are the selection below!