Product Description
A Glass balustrade can be used in many situations such as
Garden Windbreaks, Balconies, Decking & Terraces. 
 'I was concerned that being
 right beside the sea we would spend most of
 our time cleaning it - but it is literally zero management.
The best part of course is that the space works so much better for us now. We have increased outdoor trade, with the new low wind levels and even more so our customers said they feel a real sense of comfort and privacy sitting within the space framed by glass now.
We haven't looked back- my only regret is that I didn't do it sooner'
Jane & Myles
Shells Cafe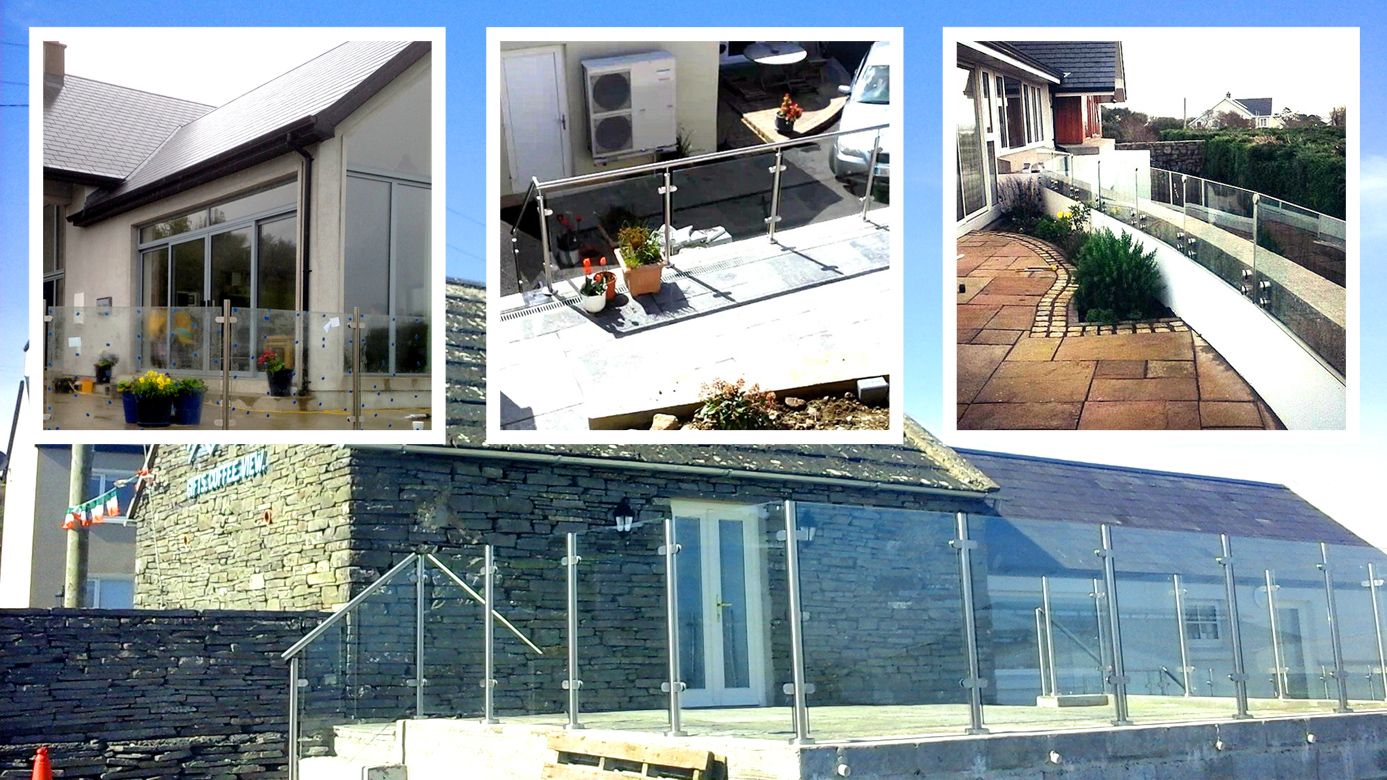 We Supply & Install Glass Balustrades in Sligo, Dublin, Galway & Clare  and
everywhere in between!
However, If no fitting is required we can Supply Glass & Balustrade Systems Nationwide!
If you are a
Tradesman or Self-builder
we can supply all the parts you need to build a contemporary glass balustrade. If You Would like us to fit Your Glass Balustrades, one of our Installation teams can Install the best solution for you. We have many different options available for both Domestic & Commercial purposes.
Prices From €250 per Linear Meter Excluding VAT.
We use
8mm – 22mm Toughened/Laminated glass
which is Robust & safe to use either as a Balustrade or a Windshield. Because we buy glass in such high volume we can offer the best prices in Ireland.
Post are made from 316 grade Brushed Stainless Steel.
Glass Balustrades make a Great Investment!!!
Glass Balustrades
add value to your Home & turn your Garden into an extra room
you never knew you had! There has never been a better time to Invest in your Home as customers can be refunded 13.5 % VAT under the Irish Government's
Home Renovations Scheme (HRI).
Please Note: 
This page is Purely for Outdoor Glass Balustrade/Windbreak Solutions.
Glass Windbreaks - Ezi Rail Glass & Post Solution
In Ireland, it's often just too breezy to sit out in the Garden but now you can Shelter yourself from the elements without obstructing the View!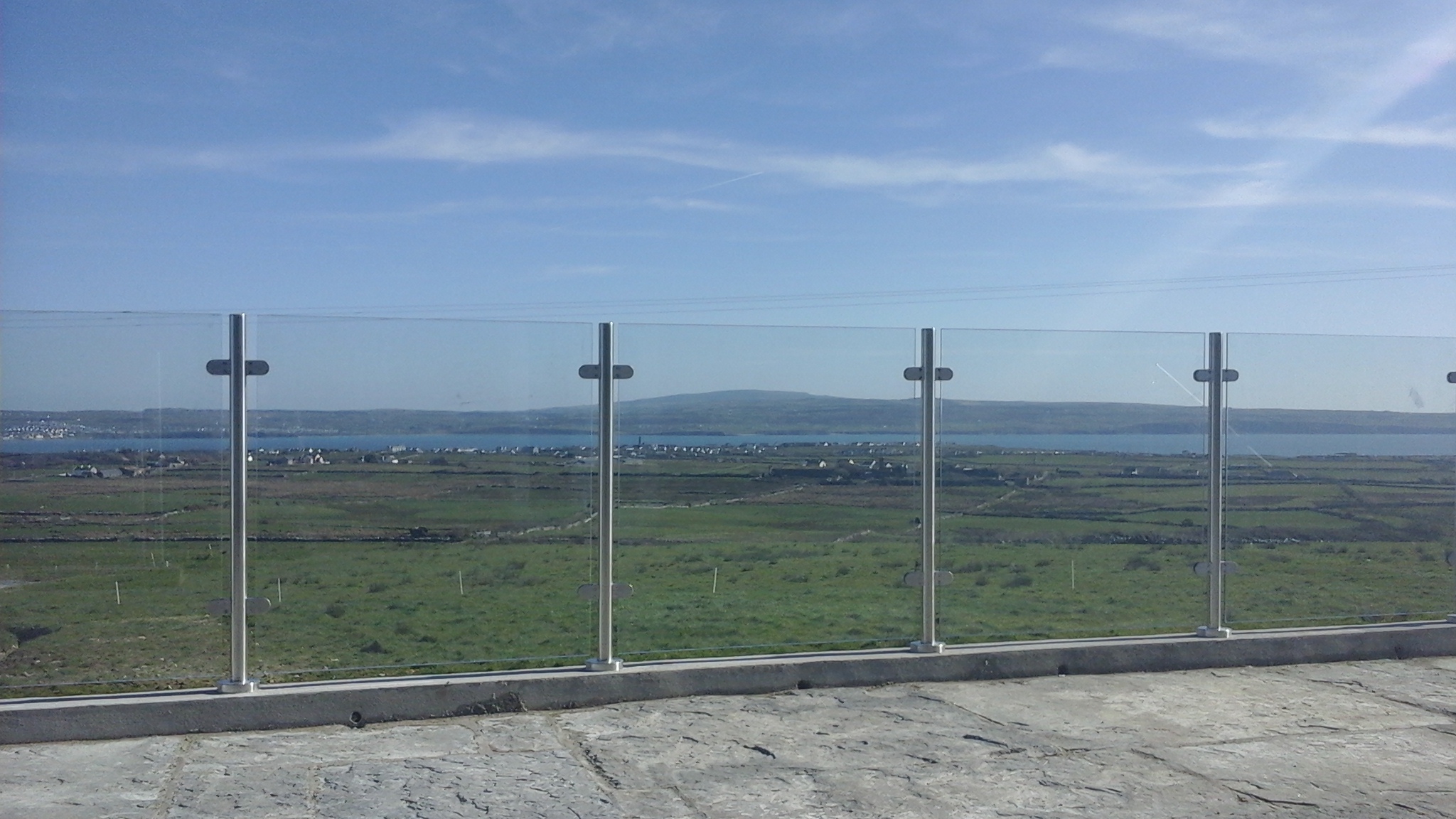 Glass Balustrades bringing the outside in!
We Supply the
Ezi-Rail
which is a Pre-Fabricated Post System made from
316 Grade Stainless Steel
. The handrail is optional. For more info email:
sales@sligoglass.com
or to talk to one of our friendly staff, call us on
+353 719108073
Leave a Voicemail anytime
We can also provide Blustrade Systems, which are suitable for
Juliet Balconies, Terraces, Apartment Blocks, Patios & Decking areas.
Frameless Glass Balustrades 
For a
Seamless View
we recommend the
award winning CrystalView system.
No Posts to spoil the view - Just Glass!  As seen on grand Designs.
CrystalViewSystem
makes glass installation & removal a cinch . This means that unlike wetglazing systems the glass is easy to remove if it ever breaks or gets scratched. All our glazing systems are fully certified for a height of 1100mm and meet all building regulations.
"Most Innovative Commercial Hardware Product"
Glass Magazine
Call in to our Showrooms in Sligo to see our Samples & Brochures. For more info email:
sales@sligoglass.com
 or to talk to one of our friendly staff, call us on
+353 719108073 
Building a new home?
This is perfect for you, and so are the selection below!
Want to know how to fit glass F50 EZi rail balustrade?
Watch the video below: