"Walk-On" Glass Floor
Glass toughening & lamination technology has improved the strength and toughness of glazing products. This has given rise to a whole host of new uses for glass. Walk on glass floors are one such product & can significantly enhance the brightness inside your home.
The toughened laminated Walk on glass floor is inserted into the floor to allow natural light to permeate through your home. Walk On Glass Floor can brighten up even the darkest of homes and has a high visual impact. A glass Floor Turns your home into a fantastic contemporary living space!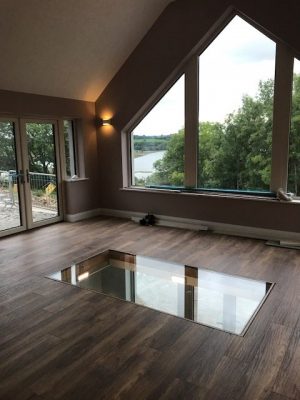 Low-Iron Glass – Ultra-high light transmission – Allows more light to pass through than Standard Glazing
Anti-Slip Pattern Applied to Glass Surface – Guarantee safety, even when wet
Colour Interlayer option available – Customize glass Colour
Painted border Option available
Allow Natural light to flow through your home with the clever use of Our glass floor panels.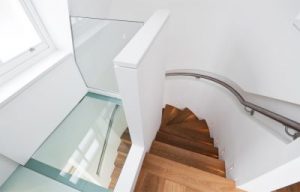 A Walk on Glass floor will allow natural light to permeate your home negating the need for electrical lighting during daylight hours.
We at Sligo Glass supply Walk on Glass Floor panels in stairwells, passageways, and walkways.
A delivery charge may apply depending on location
The Most Popular configuration for a Walk-on glass Floor is 33mm in thickness & This comes in two Standard Sizes
1000 x 1000mm
650 x 1500mm
Optional Extra: Anti-Slip Pattern Applied to Glass Surface
It's essential that the glass floor panels are structurally sound & manufactured to meet the required loading specifications. Don't worry, we can advise you on all the details. For more info email: sales@sligoglass.com or call us on +353 71 9161924
You can also leave a Voicemail any time of Day or Night with your phone number and email address and we will get back to you as soon as possible.
If you're an architect, designer, builder, homeowner, self -builder or just someone that needs a professional service from a knowledgeable glass company… We're here for you. From Structural Glass to Kitchen Splashbacks …
To make sure we provide outstanding service, one of our Expert Specialists will be assigned to project manage your job from start to finish …Keeping You informed and making sure your specifications are met down to the smallest detail.
*Quality Assurance MCS
Sligo Glass management control system WorkFlowmax tracks each jobs performance and delivery. The Job Order / Contract ensures your Job is managed as in a timely & efficient manner. WorkFlowmax monitors job productivity to ensure the best possible price and on-schedule delivery. Key Quality Review Point checks and sign-off ensure QA. The Work Management System ensures job visibility and therefore "nothing falls through the cracks". This should also facilitate improved customer service through increased ability to communicate job position in the production/service process. Customer Satisfaction is measured to ensure the quality of delivery and continuous process improvement.
New house? Renovating? We have many products to choose from …